Give Through:
-------------------------------------------------------

A giving platform for churches that enables you to give securely from anywhere, at any time.
Why use Tithe.ly?
The CBOQ recently negotiated substantially lower transaction fees with Tithe.ly for all CBOQ churches. This makes Tith.ly a more economical way for our church donors to give online (2.5% + $0.15/transaction).

Tithe.ly offers a greater range of options for giving than CanadaHelps by providing a Tithe.ly Giving App that can be downloaded to your phone and used for giving your offering anytime.
Tithe.ly has a helpful FAQ page if you would like to know more about them.
Tax receipts for donations made through Tithe.ly will be issued yearly by Weston Park Baptist Church before the end of February of the next calendar year.
To make an online donation please use the button below or download the Tithe.ly App to donate from your mobile devise anytime.
The Tithe.ly App
To find and download the Tithe.ly Giving App, go within your mobile device's app store (Google Play/iOS App Store) and search "Tithe.ly".
You can also select the direct links below: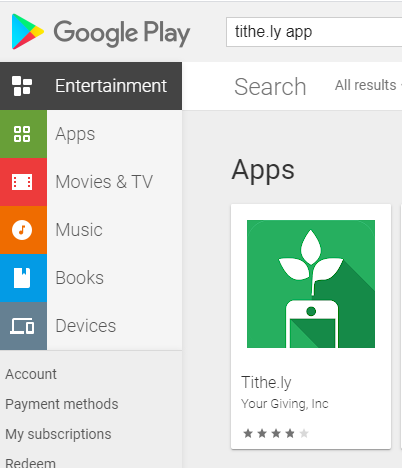 Install the Tithe.ly App, and open it.
The first time using it you will need to create an account with password and pin.
Once open search for Weston Park Baptist Church and follow the prompts to donate.
_______________________________________
If you prefer to give through CanadaHelps for secure online donations please fill in the following form to complete your donation.
Tax receipts for donations made through CanadaHelps will be issued by CanadaHelps at the time the donation is made.
A 3.5-4% processing fee is deducted from your donation by CanadaHelps.
_______________________________________
E-transfer
E-transfers can be made to the church. Please address to "givings@westonparkbaptist.org". Transfers made to this address will be securely & automatically deposited into the church's account. No security question/answer will be required. A donation tax receipt will be issued in February of the following year.
_______________________________________
Donate by Auto-deposit
Regular offerings can be set up to be withdrawn from your bank account once or twice monthly. If you are interested in this option, please contact the church office - theoffice@westonparkbaptist.org or 416-241-3861.
_______________________________________
Donate by "Mail"
Offering envelopes are available for you to use. Please contact the church office if you require a set - theoffice@westonparkbaptist.org or 416-241-3861. Envelopes may be sent to the church through Canada Post -Weston Park Baptist Church, 1871 Weston Road, Toronto, ON, M9N 1V9.
If you prefer you may drop off your envelope at the church directly. Place it through the mail slot in the Lawrence Ave. side door of the church (Tuesday to Thursday mornings).